Since the very beginning, Goyard has drawn an exclusive clientele throughout much of the world. The Goyard tote price is a question most handbag lovers look-up daily, especially with its ever-growing popularity. The fashion house was established in 1853 by François Goyard and has been the luggage of the 1 percent ever since.
Nevertheless, this proud lineage had all, but faded by 1998 when the fashion house was purchased by a businessman named Jean-Michel Signoles. The brand, still offers high-quality pieces and the Goyard tote price is reflected by their quality. Thus, even when Signoles cautiously updated the designs, he understood that such an elite brand must stay true to its special colors and luxury roots—less is always more.
How much is a Goyard tote? The current price for this handbag vary per style and season. Goyard handbag prices tend to increase each year, thanks to high demand. But then, be that as it may, here's a brief overview of the more popular items, specifically tote bags, and their prices in North America. Most totes come in two different sizes (PM/small and GM/large), and you can select standard or custom colors. Nonetheless, prices also vary depending on size and color.
Goyard Saint Louis Tote (St Louis Tote) Bag
One of the most popular Goyard Tote is none other than the Goyard Saint Louis (St Louis) Tote. This tote bag is very similar to the Louis Vuitton Neverfull, their signature tote. Most St Louis styles include a classic Goyardine pochette (which can be found in special colors). How much are Goyard bags? Specifically, the Goyard St Louis prices? Or Goyard St Louis GM price? See prices below.
| | | |
| --- | --- | --- |
| Style | Price ($) Classic Colors | Price ($) Special Colors |
| Goyard Saint Louis PM | $1,200 usd | $1,560 usd |
| Goyard Saint Louis GM | $1,490 usd | $1,795 usd |
Goyard Saint Louis PM Bag on Reseller Sites
Goyard Saint Louis GM Bag on Reseller Sites
Goyard Anjou Tote Bag
Another coveted bag is the Goyard Anjou Tote. Here, this gorgeous bag is made with one side leather, teh other side is canvas. The Goyard Anjou tote bag comes in two sizes, and has a pochette. Besides being made of leather, one more key difference between Saint Louis and Anjou bags is that the Goyard Anjou is reversible (much like the Louis Vuitton Neverfull). This is an incredibly popular Goyard bag style, especially in classic colors. See prices below.
| | | |
| --- | --- | --- |
| Style | Price ($) Classic Colors | Price ($) Special Colors |
| Goyard Anjou PM | $2,745 usd | $5,568 usd |
| Goyard Anjou GM | $3,550 usd | $4,615 usd |
Goyard Anjou PM on Reseller Sites
Goyard Anjou Mini on Reseller Sites
Goyard Artois Tote
Finally, the Goyard Artois Tote is a hot item and is fairly similar to the Saint Louis Tote. For instance, it's made of canvas, plus has the same look and feel as the Saint Louis Tote. However, this particular tote bag's claim to fame is that it's sturdier or has a more structured design, which adds to the Goyard tote price tag.
The Artois Tote has a zipper closure, inside/interior pocket, and leather corners to ensure your designer tote bag never loses its shape. Note that the Artois Tote doesn't come with a pochette, but it does come in two sizes and special or classic colors. How much is this Goyard purse price? See our list below. Also, be sure to check out our list of popular Louis Vuitton crossbody bags here.
| | | |
| --- | --- | --- |
| Style | Price ($) Classic Colors | Price ($) Special Colors |
| Goyard Artois PM | $1,725 usd | $2,245 usd |
| Goyard Artois MM | $2,035 usd | $2,625 usd |
Goyard Artois PM on Reseller Sites
Goyard Artois MM on Reseller Sites
Bonus Buys!
We love the quality and overall aesthetic of Goyard as a brand, and while we LOVE all the totes they have to offer, we had to mention other amazing styles this brand has to offer. Check out some styles below we love from a Goyard Bucket Bag, Goyard Trunk Bag, Goyard shoulder bag and more! Find the Goyard Tote Price above.
The Design
Dots and dashes are the signature element of any piece. Known as Goyardine—the proprietary canvas that bears an interlocking "Y," this design was developed by Edmond Goyard in 1892.
Paying homage to their previous life, the pattern consists of tiny tick marks that symbolize logs because the fashion house's family were lumbermen before they learned to make luggage. This classic and alluring design was originally stenciled by hand; the canvas is now screen-printed. This classic design adds to the appeal of the Goyard tote price or handbag styles in general.
The Goyard Tote Price Appeal 
Planned scarcity is the secret of Goyard. In other words, Goyard is seen as a speakeasy brand—not only do you need to know where the door is, but only a select few can get them, which just adds to the mystique. Thus, another reason why it's tough finding the current Goyard tote price.
This look is for those in-the-know and creates an almost unseen air of luxury. Thus, it's not too surprising that Megan Markle loves it and has seamlessly incorporated this ultra-luxe fashion house into her everyday wardrobe, workout gear, and travel essentials—totes, duffle bags, etc.
Nowadays, the brand is akin to Hermès Birkin bags and is more readily available. However, this doesn't change the quality and history behind it all, which means the price tag on any Goyard item will continue to be that of a much-coveted luxury brand.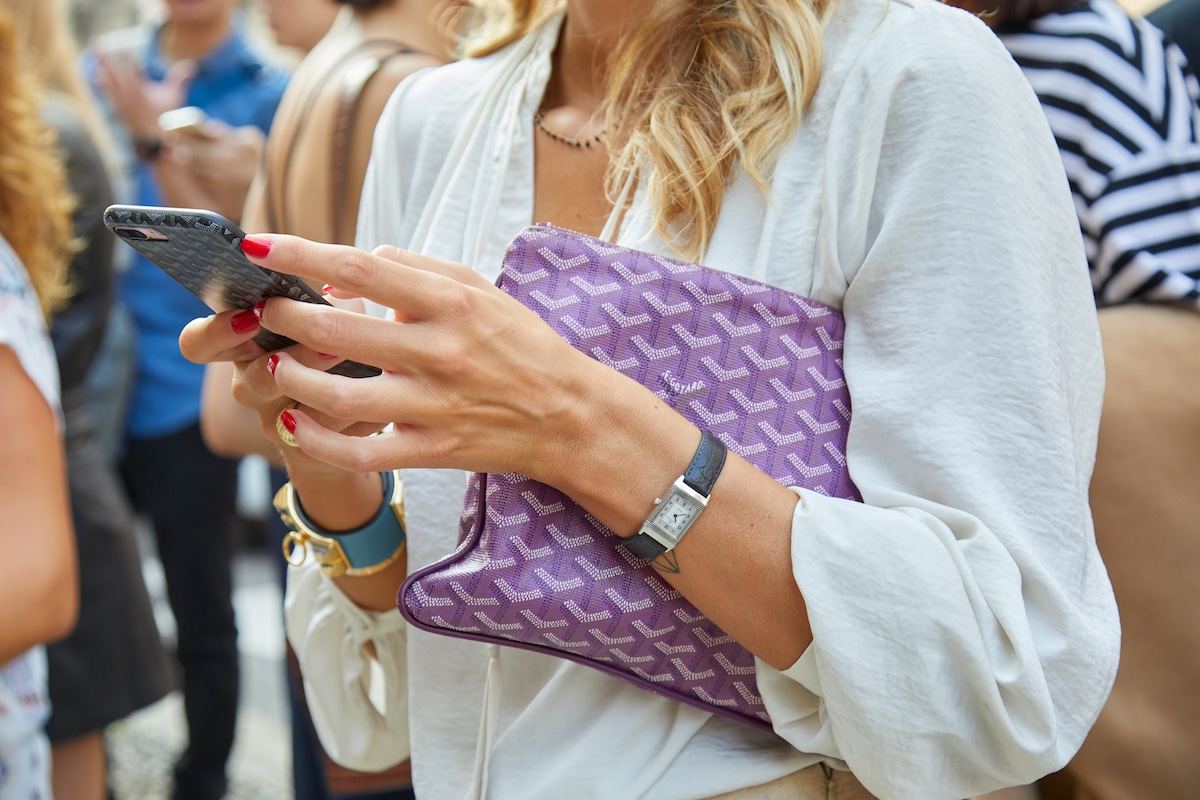 Finding The Best Goyard Bag Price
Ultimately, these are just a few of the amazing Goyard bag for sale. Aside from the Goyard crossbody bags such as Goyard belvedere pm price 2022,  Goyard backpack price,  or Goyard paris price, the Goyard totes are by far the most popular styles! That said, buying Goyard bags online or directly through Goyard is unlikely. So, how much is a goyard bag?
Not only is it tough to find an updated Goyard price list, but Goyard handbags or Goyard Totes for sale online are rarely available, especially in classic colors. However, where to buy Goyard tote is mentioned above at high-end boutiques or look into exclusive secondary market retailers. Handbag lovers also look for Goyard duffle bag price or Goyard tote with zipper.
If you do choose to go to the secondary retailer route, make sure that you go through a reputable seller, so you know you're getting an authentic product. The resale items listed above have the best reviews and are always guaranteed authentic.
Photos courtesy of official websites of goyard, fashionphile, rebag.